Endorsements
<-- -->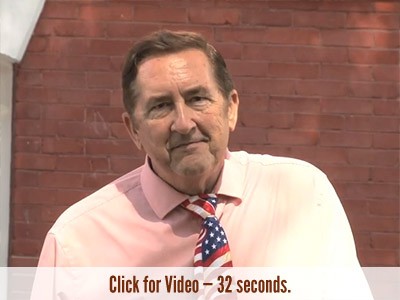 Political Endorsement Introduction
The "best", most powerful and influential endorsements are from the most accomplished "upper position" people with public name recognition. Thus, those of the "upper tier" in politics, whether by design or unintentional, tend to promulgate those who are like themselves. Is this elitist? How representative is this of "We The People"? How do we weigh the opinions, beliefs, and values of the guy or gal next door -- the working class of middle America? Below are a mix of diverse endorsements, which I believe are more accurate and meaningful, reflecting a clear picture from the citizenry who support their political candidate of choice.
I am truly grateful to each person who has taken the time and effort to endorse me and if I am elected, my success is their success for they are the reason I will be going to Washington, D.C. You and I. We The People.
<-- -->
Army Staff Sgt. Ben Parker, retired.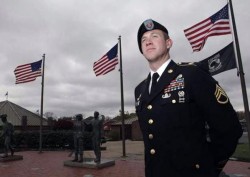 Please note: The picture of retired Staff Sgt. Ben Parker in uniform, does not indicate sponsorship, sanction, endorsement or approval by the US Army or DoD, of his endorsement:
Background: Staff Sgt. Parker was a bomb tech. His customary uniform consisted of 80 pounds of Kevlar and steel plates. His job was to not to take lives, but to save them. In two tours of duty in Afghanistan, he defused or safely detonated more than 300 IEDs, the explosive devices responsible for more than 80 percent of the fatalities in the Iraq and Afghanistan wars. Two bronze stars attest to his bravery. His safe return from deployments attests to his skill.
His Endorsement: I have known Marko in peaceful setting and have learned that we share many of the same values, beliefs and commitment to duty and country. Although he served in a different time, in a different part of world, I have come to know him as a man of honor and integrity and faced with overwhelming odds, he will stand firm and faithful to his principles. He is concerned about the direction of country and I share his concerns. Without any reservations, I endorse him as a person in his quest to again serve our country.
<-- -->
Command Master Chief Jim Key, USN, RET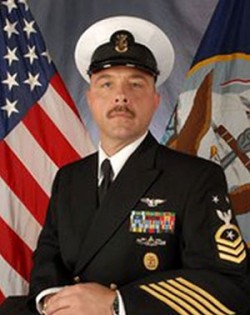 Please note: The picture of retired Command Master Chief Jim Key in uniform, does not indicate sponsorship, sanction, endorsement or approval by the US Navy or DoD, of his endorsement:
Background: Dedicated over 26 years of his life to the service of this great nation. His first tour of duty was with the "GOLDEN INTRUDERS" of VA-128 in Whidbey Island, WA. Some of his other assignments include: The "COUGARS" of VAQ-139 in Whidbey Island, WA followed by the "BLACK KNIGHTS" of HS-4 in San Diego, CA where he completed his first WESTPAC deployment on board USS KITTY HAWK (CV 63). He transferred to NAVCRUITDIST Nashville, TN where he served both as a recruiter and the Recruiter in Charge of Navy Recruiting Station Columbia, TN. He then moved here to Florida to join the "VIPERS" of HSL-48 in Mayport, FL. While there he completed his 2nd and 3rd deployments onboard USS BRISCOE (DD 977), where he was selected for Chief Petty Officer and USS KAUFFMAN (FFG 59). He then transferred to Recruit Training Command in Great Lakes, IL where he served as a Recruit Division Commander, was selected to Senior Chief Petty Officer, and spent six months in Newport, RI with Officer Indoctrination School where he was the company leading Chief, training newly assigned staff corps officers. He move back to the sunshine state to join the "PROUD WARIORS" of HSL-42 in Mayport, FL where he completed his 4th and 5th deployments onboard USS VICKSBURG (CG 69) and USS NITZE (DDG 94). Following his deployment on NITZE, he was selected to Master Chief Petty Officer and received orders for an 18 month deployment to the Middle-East to serve as the installation Command Master Chief (CMC) of Naval Support Activity Bahrain. For his final tour of duty, he came back to Florida and rejoined the "VIPERS" once again to serve as their CMC. Master Chief Key was an Enlisted Aviation Warfare Specialist, Enlisted Surface Warfare Specialist and Master Training Specialist.
Endorsement: After holding multiple leadership positions in a highly diverse military organization, I have had the distinct privilege to work with some great leaders. On the flipside of that, I have also known and worked with just as many that were not so great. Our country has gone through so many changes in the recent years that have had a large portion of the population wondering; "What is our government thinking?" I personally know Marko and have worked with him on a number of occasions since I retired. This man truly believes in what this nation represents and wants to stand up for the average American. He has a strong work ethic, is very articulate, and has the conviction to back up his beliefs with actions. I also know him to be highly principled and a patriot to our country. I am aware that he is running for U.S. Representative and without any reservations, I recommend him to the voters of his District. I fully believe that if he were elected, it would be a positive step forward for our country, he would faithfully represent all citizens, and he would be one of the great leaders.
<-- -->
USAF Captain Dave Mottorn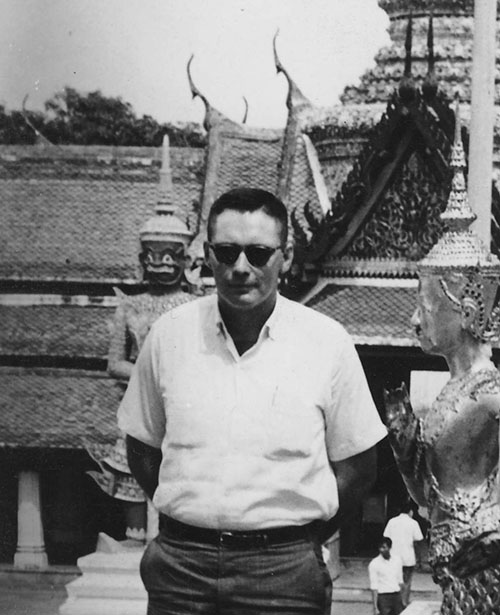 Picture taken in Thailand in 1967.
Please note: The picture of then-Captain Dave Mottorn, and comments, does not indicate sponsorship, sanction, endorsement or approval by the US Air Force or DoD, of his endorsement:
Background: Then-Captain Mottorn had many deployments with then-Lt. Marko Milakovich in South Vietnam and Thailand during the period 1966-1968. They had many experiences together, some good and some not-so-good. The deployments were all technical in nature involving telecommunications equipment. Both were members of the USAF First Mobile Communications Group, which was home-based in the Philippines. Lt. Col. Dave Mottorn (retired) passed away in 2011.
The endorsement as prepared by his widow, Loreen:
During the latter years of the Vietnam War, then-Captain David P. Mottorn was assigned to the United States Air Force First Mobile Communications Group, stationed at Clark Air Base, Republic of the Philippines. The motto of the group is First In, Last Out, and this certainly held true during that war. My husband was deployed to South Vietnam and Thailand for at least half of his time in the First Mob and was awarded the Bronze Star Medal for meritorious service there. Like any military wife, I heard the stories of warfare, some frightening and some actually amusing and certainly ones detailing the courage of our military personnel, and a number of which involved Lieutenant Marko Milakovich, who was Dave's technical advisor during their many deployments related to advance surveys for the technical evaluations for possible installation of communications equipment in South Vietnam, where they experienced exposure to mortal danger from ambush, sniper fire, and mortar attacks, and to Thailand. Occasionally Marko was a guest in our off-base home at Clark and I saw the relationship between the two men become one of older brother/younger brother, each respecting the other on many levels and often having a jolly good time together. That relation extended until my husband's death in 2011. During their service together, Dave developed a high personal and professional regard for Marko; he viewed Marko as an extremely competent adviser and one who was dedicated to the mission and who, along with Dave, exhibited fearlessness in hostile territory and an exemplary devotion to duty. And those qualities are reasons why Dave would stand proudly at Marko's side today and support him wholeheartedly in his quest to again serve our country.
<-- -->
Jose deJesus and Diego Rivera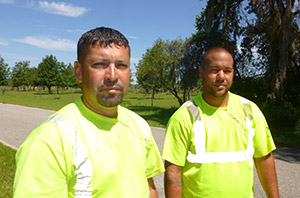 Please note: The picture of Jose and Diego, and their comments, does not indicate sponsorship, sanction, endorsement or approval by their employer.
Background: Jose (on left) and Diego (on right) are residential garbage collectors. They are family men and work hard to support their families. Jose's wife's name is Elizabeth and they have one child, whose name is Ricky. Diego's wife's name is Dennilis and they have four children. Both are Puerto Rican; Jose was born in Puerto Rico and Diego was born in Connecticut, although his father was born in Puerto Rico. They are both proud and have a high sense of integrity and honor and a strong work-ethic; and as they have stated, they are pursuing the "American Dream". They each typify the average, hard-working, "guy next door". As a side note, Marko is a former garbage collector from Seattle, Washington and paid for his college education collecting garbage.
Jose and Diego's Endorsement: We work hard to support our families and take care of them. We are very unhappy with our federal government because they seem to be so me-me-me and are so quick to take our money for their benefit, without much thought about us, the working man. At least this is the way it seems to us. The Washington politicians act as a privileged class of people and get benefits that we can't get. This is not right and it is upsetting. There should be no privileged class in America. We pay our taxes on our wages that we got through hard work and sweat; and we are both tired of seeing the government take our money and wasting it and putting it in their pockets or their special interests. We work hard and it is very upsetting to see the large number of people getting food stamps and welfare; and in the past, when we have been in need, it seems we were always just above the cut-off and didn't qualify for anything. We drive through some neighborhoods and see too many people not working and living off our taxes – it makes us mad, this is not fair. We struggle pay-check to pay-check. We have both discussed this and we both worried about what is in our future. We will be able to retire? Will Social Security still be there when we are ready for retirement. And who knows about today? From all we hear our country's security seems to be going down the drain. Oh, and I'd (Jose) like to add, that my father is a Vietnam Veteran and I think it is terrible the way the Veterans Administration is treating our veterans. We are sick and tired of this! We want a person to represent us, who is not a politician. One who knows what hard, honest work is like. This is why we both support and endorse Marko. We want someone like us to represent us, someone we can trust. Good luck Marko.
<-- -->
Dustin Raibourn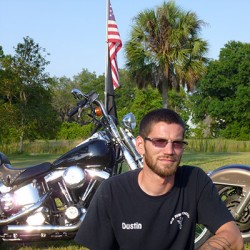 Please note: The picture of Dustin Raibourn, and his comments, does not indicate sponsorship, sanction, endorsement or approval by his employer.
Background: Dustin is not married. His sole job is as a motorcycle mechanic for a small, independent motorcycle repair shop located in St. Cloud, Florida. While Dustin can work on any motorcycle, he was specifically trained on the repair and maintenance of the Harley-Davidson motorcycle, and that is his specialty at work. Dustin services Marko Milakovich's motorcycle.
His Endorsement: I am a very independent and self-sufficient person. I work hard and never miss any work. I am strong on Civil Rights and believe that there is way too much interference by the Federal government into my life and I don't like that. One of my worries is that the Federal government is assuming more and more power and that means I am giving up more and more of my rights. The local government and State government should be doing more and not giving up their powers to the Federal government – this is dangerous. I am a very strong supporter of the U.S. Constitution and believe that it should remain the guiding principle and authority for who is allowed to do what. Yet, from watching the news, I see the Federal government grabbing more and more and I am upset and worried. I am a strong advocate of the Second Amendment and the right of citizens to personally own guns. Guns were needed by citizens when our country was formed and the right to own guns should remain strong and not be lessened by the Federal government. I have known Marko for some time and we talk every time he brings in his Harley-Davidson motorcycle for service. From our chatting I know his views are like my views, at least on the topics we have discussed so far. I am comfortable with him and believe he will support the issues that are important to me. I don't trust politicians, but I trust Marko. I hope he gets elected.
<-- -->
Gabriel Salvador Corada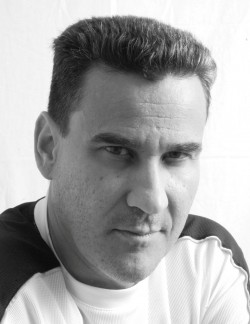 Background: Gabriel Corada is a small business owner and operator here in the greater Orlando area. He is both a professional photographer and a film maker with an expertise in video and audio recording. As a small business owner, he is faced with all the government rules and regulations, which a business owner must satisfy, many of which only make it more difficult for him to operate and be successful.
Endorsement: Candidates from all walks of life will be jockeying for position come November 4, 2014. The voter will be in undated with information from them and about them. Many of the candidates will say they want to help and are looking for change. Some will even be committed to the words they've spoke, but few will have the character and determination to pull it all together into one cohesive initiative that will make a difference for the State of Florida. I support Marko because he has those virtues. If you have not yet realized that the only folks worthwhile voting into office, are those who run independently, you probably have no business voting. Not only do I know Marko personally, but I understand his philosophy and moral standard. His unmatchable character, wisdom and valor is one to emulate. A veteran of the Vietnam war, Marko knows what it is like to stare death in the face. If you don't think that is important for a politician, then maybe you don't care that Washington will happily vote for war, simply on the grounds of the profits this will bring the corporations that service and supply them. They will never take into consideration the men and women in uniform who must go out and die. A Veteran will, because he has been there. This is why I endorse Marko Milakovich for U.S. Representative District #9.
<-- -->
Judi LaScala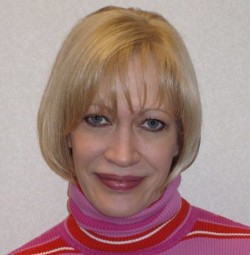 Please note: The picture of Judi LaScala, and her comments, does not indicate sponsorship, sanction, endorsement or approval by her employer.
Background: Judi LaScala is single, 48 years of age, lives in Tekamah Nebraska, populution 1700, so it is easy to say she is your basic down home country girl. She presently works for Farm Bureau Insurance. Working in the insurance industry, Judi addresses many concerns from property and casualty state requirements and regulations to ever-changing health insurance concerns. She has served on the county planning commission for 6 years. She met Marko when he was living in Omaha, Nebraska and while they were both working for First Data Resources.
Endorsement: I have known Marko for a little over 20years. In that time frame Marko has enjoyed life occasions, and, as with anyone, stressful and challenging life-events; from births to deaths to employment changes and relocations. Through and through, Marko continually remained a leader and a professional. Marko does not jump into anything foolishly or unprepared. You can rest assured, he has not only done his research, but will pay attention to necessary detail. Marko "listens" and actually pays attention before formulating an opinion, which is a rare trait. Marko is a Vietnam Veteran; he has self-discipline, honesty, integrity, structure and drive. It is my opinion that all of these characteristics are necessary for an effective U.S. Representative. I fully endorse Marko Milakovich, without reservation, and look forward to his continued service to this country.
<-- -->
Tim and Susan Woen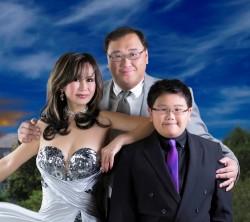 Background: Tim and Susan each came to the United States for an advanced technical education. At the time they were not married. Each studied hard and both obtained a double Master's degree in Electrical Engineering and Computer Engineering from the Iowa State University. Upon graduation they each, independently, started a job search, starting in the local area. It was at this time that Marko, who was the Director of Network Engineering at First Data Resources, an American Express Company at the time, was conducting a job search for engineers. Tim and Susan both applied, were interviewed, and hired by Marko. After they were hired, Marko assisted them in obtaining their immigration papers for technical employment in the United States. It wasn't long after that Tim and Susan were married. Marko later left the company and Tim rose to Director-level in the company. Susan left the company to start a family and raise their son.
Endorsement: After Marko hired us, we both had extensive time working with him on various technical projects. He was a good technical leader and always clearly stated the requirements of every project we were given and provided close technical guidance throughout the different phases of every project. We also appreciated his caring, personal style of management and always demonstrated patience and respect to all his direct-reports. In addition, we observed his professional relationship with others in the company and noted he always respected everyone and received their respect in return. It was a very positive experience for both of us. Years later, when I (Tim) was ready to seek employment elsewhere, to further my professional career, I contacted Marko, and as expected, it was as if there had been no break in our relationship and he again put forth extraordinary effort to provide me with professional career-enhancing opportunities to further investigate. Marko has an exceptional ability, that when given a problem, he will analyze it and seek out the essential elements that truly define the issues and the requirements. In fact, I recall him giving a lecture on the importance of "Define the Requirement". This ability of his is one reason that I am confident that Marko will be a positive force to achieve the mission objectives, regardless of circumstances of any job he may have. Susan and I have learned that Marko is seeking the office of U.S. Representative in Congress. We are both honored to be able to attest to his integrity of character, gracious demeanor, interpersonal skills, and his professional, technical capability. These characteristics will serve him well, and we both hope he is elected, because we sincerely believe that the United States, our country, will benefit from his election to this office.
<-- -->
Mark and Mark Bowers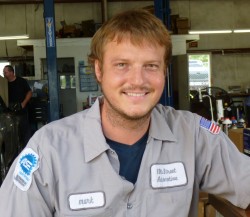 Background: Mark is the son of the Father and Son Automotive Repair business at 10th Street Automotive repair in St. Cloud, Florida. He is single, never been married and has one older sister. He was born and raised in St. Cloud and graduated from High School in St. Cloud. After graduation he went to a two-year trade school in Albert Lee, Minnesota. Upon completion he joined his father and they became a team. The father's name is also Mark. The business has been at this particular location since 1998. Before that, Mark the senior was at two other locations. It is very heart-warming to see a father and son working together, running a small business and being able to extend their relationship into the work environment and have it be a positive life experience. Mark the father, waited until the timing was right before he could bring his son into the business to work with him in 2008. The father-son business experiences all the problems faced with any small business owner and they provide employment for several employees.
Endorsement/Comments by Mark the father:
When I first started my own automotive repair shop it was a joy and fun to come to work every day. As time passed, the growing taxes, rules and regulations that I had to face slowly changed the environment so that coming to work now is not fun, it has become job. Both my son and I have come to know Marko ever since he first started to bring some of his vehicles into our shop for maintenance. Each time he lingers for awhile and we chat with him – one or the other of us. As a consequence, we have come to know him.
I'm not too much into politics, but I think the federal government is gradually intruding into our lives. I actually think that slowly but surely, without us knowing it, attorneys are up there writing the laws, and we don't even know what laws they are writing. And then, every time we cross the street, we could be breaking a law, they just don't enforce them all, but they're there and it's getting worse.
I remember a Russian President once said, we will not have to fight the United States, they will destroy themselves from the inside. I never forgot that. To me, it seems that we are going that way. I am very tired of all the political in-fighting and as a result, I really don't want to listen to it on the news, because all it does is upset me. Those politicians in the White House are writing every little law to protect themselves and their families and their jobs – they're not worried about me down here in this little garage. They should follow the same laws that we have to.
Most people that I know, up to the last election, were interested in voting and voted for our President. I did not. But now, that same group of people will probably not vote this year – they probably won't. They don't know who to vote for. My friends want a person who has integrity and is honest. That's why I want to vote for Marko. I want him in there we need people like Marko in there. When those politicians get into office, they think it is for life. I believe that if you don't have change in Congress, they'll continue with the same positions and they are going to continue to do their same old business the same old way. I believe the terms of office are way too long up there – it's ridiculous. The government is no longer for just "we the people", it's a big business. I would say that "we the people" are taking a beating, and we've been taking a beating for a long, long time. I hear about families, families here in the United States of America where kids are sleeping in the woods, getting up and going to school – families living like that. And yet, we can't take care of our own; but, on our Southern U.S. Boarder, they're throwing babies over a fence, putting them in camps, and then we are accused of abusing them. Where does that stop? We can't take care of the population that is here now our own people. And a lot of people have lost their jobs, lost their homes, over the past six-seven years, and these are just average, working class people – they couldn't help it that construction dropped to near-zero, and then they didn't have a job and lost everything they had. The other thing that upsets me about this country is banking, OK? All they talk about now is your credit score. What in the heck is the credit score? You only have a 550, you can't get a credit card. I got some outstanding doctor bills and may be a little slow paying a few bills, you gonna smash me over that? And, at one time my customers paid with a credit card and there was no charge. Now there is a charge by the credit card processing companies and it's just like another tax on my business – I don't like it.
My guys here work strictly on the clock. If they want a day off that's fine but they don't get paid for that day. They make pretty good money. We don't have a rule book. All of the big companies have cut back because of insurance reasons. My girlfriend works in a grocery store. This poor lady decorated cakes for $10/hour, standing on her feet for 8-9 hours a day, sometimes. Now, that store wants to go on this program called Oasis that puts you on call – you work from 8am to noon, then get three hours off, then at dinner time you have to come back and work some more. And, she could go on-call, so if it is slow they let her off until they get busy. People just can't work this way anymore. This is why she quit. People are quitting in stores like this and the stores are going to get run-down. In a silent way it is worker abuse. And they have the nerve for somebody to work for time and money, to work six months to get an evaluation and then they say "You did excellent, we're going to give you a raise of 25 cents an hours." Come on!!! Gas went up higher than that! It's hard to raise a family if you don't know if you're going to make a full paycheck that week or not.
I have absolutely no confidence in our federal leadership, none whatsoever. In the past, I did, but not now. The sad thing about our country is the leaders don't care about our country, in my mind anyway, the people that run our country are attorneys, and they are everywhere -- the attorneys that are up there writing the laws everyday is what's ruining our country, and the people down here, we don't know it, it's as if we are some kind of lowlife. NO, we are no different than them – we walk on the same soil as they do. This is my biggest beef – they just don't give a hoot about the people. ObamaCare has been nothing but an embarrassment. Now, all the people are continually being hurt by it, and certain small insurance companies are folding; too many people can't get insurance now or are paying a lot more for their insurance. This is not improvement, its going the wrong way. And, one of the biggest things is unemployment. Unemployment is a joke and so are the numbers that the government puts out. When people are starving and too many aren't working – we got a problem. I hope Marko gets elected – we trust him and need more people like him in office.
Endorsement/Comments by Mark the son:
I have no faith in our federal government, not very much at all, if any. They lie, cheat, and steal, but when they get caught, they don't get in trouble, they get a free pass. They are a privileged class – insurance, privileged heath care, privileged travel, and all their supplies in the office. I have to buy my supplies, they don't. They also can get a retirement after six years – I want in on that. And, they get way more vacation time than I do. How do they get all this? They just vote themselves these benefits – I can't do that. And, they put government business on-hold when it is their vacation time and the government is threatened with shut-down. We can't run a business like that. Whacha ya going to do? You can't vote for the best candidate, you have to vote for the guy that's least worst – the lesser evil. You don't have faith in them, cause they don't do what they said they were going to do. All this talk before about transparency in the government, and telling us that, "we're going to open people's eyes and let them know what's really going on – none of this shady back-door stuff", and look what we got, there has been no difference, and if anything, it's gotten worse. Those words and promises, it's all to get elected. They don't have any intentions of doing any of that, I believe – ever. It's all for show. Of all the people that I know of or anything about, Marko is the only one I know that I can look him in the eye and trust him. He is a real person and is honest. What he says you can depend on. He's a regular person and I am happy that he is going to run for political office but I'm not sure how he'll do against slicky politicians. He has my vote and I honestly believe that our country needs more honest, committed people like him that are willing to run for office.
<-- -->
"Arty" Turowski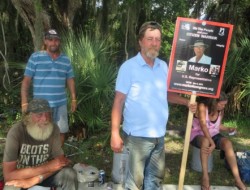 In the picture starting on the left is Brian (seated), Blondie, Arty (holding the sign), and Cindy.
"Arty" Turowski is a homeless Marine who is helping Marko with his campaign.
Background
Arty was on active duty for three years during the Vietnam era. His home town is Erie, Pennsylvania. Although he wanted to stay in the service longer, he returned home to help his Dad, who was very sick and died in 1990. His brother was epileptic. His life was difficult and then he met a lady and they went to Tucson, Arizona to help her sister and they got married. They bought a house. The marriage was not going well and they left and came to Central Florida because she had relatives here. Arty had his mother with him and was helping her until she died here in Florida. About six months later he got divorced. After that, Arty started living on the street and has been on the street for the last 13 years. While on the street he got a puppy and he has been Arty's companion for the last nine years. During the 13 years he has been pan-handling, he has always been concerned about the other homeless people he came into contact with and tried to help them with his "street-consulting". Then one day, things got intense. Three of his homeless friends died, basically because of poor health from living on the street and not having the spirit to help themselves. That caused him to really think about his life-style. Then he met a person from military Human Services. He filled out some paperwork and because he is a Vietnam Vet he started to receive some financial assistance to get off the street, for which he is very grateful. Arty remained on the street to help out other veterans (one homeless veteran helping other homeless veterans) because that were the values he was taught. About 11 years ago, while he was homeless, Arty had one child, a baby girl, with a woman he knew at the time. He had to sign his rights away because he was in jail. His daughter is in the Central Florida area somewhere – he doesn't know where.
Arty's Comments
I'm still on the street because I want to help veterans and other civilians I meet. I don't bitch at them or rag on them or criticize them, I just try to talk a little sense to them. However, most just don't want to listen. I've been in this area, between Kissimmee and St. Cloud, for about five weeks now and ran into this guy, Marko who is running for Congress. He is a Vietnam Veteran and he's doing good in life and I've been telling him about my life. I've had my dog now (in background) for almost ten years now and I'm not giving him up because he's my buddy. While I'm getting by, even though I'm on the street, there are a lot of Vets on the street who have "given up" and don't give a hoot. I try to help civilians too, but a lot of them just do what they want to do and won't change, but many just need a little help. You can't push an issue, but I think if you tried to help them, many would accept the help. In my case, I got off my butt to help myself, and I did it. A lot of them won't get off their butt. They need help because they don't know how to get the paperwork or what to do with it. We need to have someone help them get their paperwork, that's what it is. If you can help them with the paperwork, many would get off the streets. To get the paperwork you have to go "down there" and sign this and sign that. "They" want to know who is out here – that's what it is. If you don't sign that paperwork, nothing is going to happen. In my case, I get the VA check sent directly to the bank since I don't have a mailing address. There are a lot of veterans on the street who don't have any idea on how to apply for assistance – where to go or what to do. For me, I have been in Kissimmee, but I went to the VA in Orlando. It was hard, but that's what I had to do and that's what I did. One of the problems is you have to have proof of who you are. Since many don't know how to get proof on who they are, like a birth certificate, but if you show them how to do it, many would do it. One thing that might help if there was a mobile assistance vehicle, like a special RV, that could go around to provide the assistance with the paperwork. The homeless have been on the streets for so long they just focus on one thing, living, and it's hard for them to do anything else. Even though we veterans served our country, we don't want to soak the government, but if some help is authorized, we should get it since it's there. I know I can get health benefits, but what I really need is to get my teeth fixed, but without insurance, too bad for me. That don't bother me right now. What most concerns me is a lot of the guys drink, we all have been in Vietnam, we've all served in one place or another. Something has gotta be done – if they want to do a little drink and a little smoking cigarettes, that's cool because that's legal. But most need to go to the VA hospital to get checked out. But, getting to the VA hospital is a problem. A lot of them need a ride, but they can't afford it because they spend the few dollars they get on drink. A lot think the government owes them, but for me, I think the government doesn't owe anyone unless you get off your butt and do it, that's what it is. And, if you want to stay homeless, that's your life. If you have some kids and are homeless and can make a little money, go to Human Services and tell them what you have and they'll pick up the rest.
For the most part, it is relatively safe on the street. There are only a few people I worry about. It seems there are always a few crazy people around. There aren't any homeless in St. Cloud, because the cops will put you in jail – they don't want any homeless in there. In the Kissimmee area there are little pockets of homeless. I know of an abandoned building where there are about 10 and in my little area of the woods, where I have my tent, there about five homeless. Going down the road that way, there is about 20 homeless. And, they're kicking them out of Kissimmee. Most of the homeless don't want a permanent place because they worry about the bills and having to pay the bills – they don't want to do that. I've told them about all these people that will help them out, and they aren't interested, so I don't say anything anymore.
Endorsement
I'm helping Marko out. He is a Vietnam Vet and a straight-forward, honest kinda guy. If I could vote for him 20 times, legally, I'd do it. Our nation is going downhill and we need more people in government who really care and are willing to do something and not just talk about it. I'm very happy to carry Marko's political sign along Highway 192 to help him get some visibility. It makes me happy to help someone who cares about us and can use a little of our help. We may need some help ourselves, but even though we are homeless, we can still help others.
<-- -->
Pat Palmer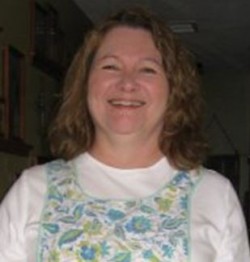 Background: Pat Palmer is an accountant and tax preparer and owner of Palmer's Accounting & Tax Service, a home-based business started over 20 years ago. In addition to being a business owner, Pat does the administrative work for her husband's custom cabinet shop. She has also worked as a bookkeeper at a CPA firm, a mobile home dealership, several hotels in Disney Village, and a local church. Pat has been married to her husband, Tom, for 30 years, has two adult sons, and five grandchildren. She has called Central Florida home since the start of junior high school in Orlando.
Endorsement: It is my privilege to tell you about Marko Milakovich, our Candidate for Congress. Being an accountant, a tax preparer and a small business owner, I have a certain perspective on Washington and the direction it has been going for the past few years. Increasingly I would have to say it isn't going in any direction. Except downhill.
Marko and his wife became tax clients of mine in 2010. I was immediately struck by Marko's zeal – not the youngest client I had, he certainly wasn't sitting around doing nothing! He was active, he had things that needed doing and he was about the business of getting them done. As we would meet to go over his personal taxes and/or his business tax return, we would talk.
We would talk about the tax code. The endlessly changing, very often one-sided tax code. I shared with him the emails I got on a regular basis from the Internal Revenue Service, updating tax professionals with the latest regulatory changes. I told him of my amazement at how most of the time the changes were so obviously written for the benefit of one line item of one corporation – a PAC payback, a favor returned. You'll never hear about it. It's such an obscure change it won't make the evening news. But it will save that one corporation thousands of dollars.
The things that do make the evening news are usually smoke and mirrors. A lot of talk about nothing, designed to manipulate us into thinking whichever way the speaker needs us to think. Because the main thing that the folks in Washington are interested in? You and me? NO! They're interested in lining their pockets, yes. But even more than that – getting re-elected. Bless John McCain's heart, at least he was honest about it. He came out and said that was their main job.
Not Marko. I don't believe for a moment that is or would ever be his motivation. Marko, just like back when I first met him, sees things that need doing and he wants to be getting about the business of getting them done. He loves this country the way you and I love this country -- the way we remember this country being loved when we were growing up. And he wants to go to battle to bring this country back to that place that we remember. And the only way he can do that is if we get the word out and get people to VOTE for him! If we can't get Marko to Washington, we are going to continue moving in the same direction we're moving in right now – nowhere but down.