About Marko
<-- -->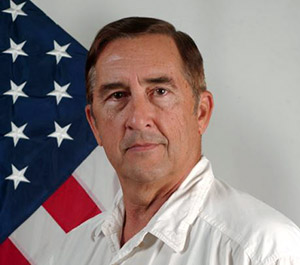 Brief Biography
Marko was born in Duluth, Minnesota and raised in Tacoma, Washington. He was an only child. His father was a barber and his mother was a beautician and later managed a ladies clothing store. Marko graduated from Washington State University with a Bachelor of Science degree in Electrical Engineering. Through his summer vacation job as a garbage collector in Seattle, he was able to pay for his college education. His hobbies included fishing and amateur radio. While in college he was in the USAF Reserve Officers' Training Corps (ROTC) program and graduated as an "Outstanding Military Graduate" and became a 2nd Lieutenant.
Upon entering active duty in the USAF, after some brief technical training, he was assigned to the First Mobile Communications Group at Clark Air Base in the Philippine Islands. His responsibilities included the site surveys for a variety of telecommunications equipment in South Vietnam and other locations in Southeast Asia and the Far East. Many of his deployments were in Hostile areas where he experienced many situations, including nearly succumbing to a friendly-fire encounter, many mortar attacks, and sustained an injury during a rocket attack. His experiences were varied, including arriving in South Korea, two days after the "Pueblo Incident" and conducted multiple, critical surveys from one end of the country to the other. It was during his tour of duty with the "First Mob", that he was awarded two Bronze Star Medals and was nominated for one of the Ten Most Outstanding Young Men of The Year Award. Click here for the nomination submission.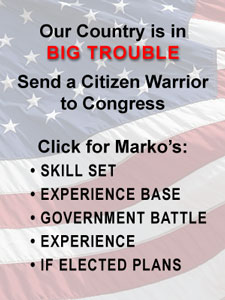 Marko continued his military career and had many assignments both in the United States and overseas. While stationed in the Panama Canal he traveled through nearly all the countries in Central and South America, again conducting site surveys of specialized communications equipment. In several of his later assignments, he traveled to many countries in Europe and worked with military personnel from many different countries. He retired from the United States Air Force after 20 years as a Major and entered the Corporate-world.
After entering the U.S. Corporate world of business he initially worked for an American Express company and rose to become the Director of Network Engineering, in First Data Resources, Inc. He also worked for several other major companies and at one time was the General Manager of Brooks Fiber Communications of Arkansas, until it was sold to another company.
Responding to the call-of-duty, Marko became a "contract civilian" and deployed to the Middle East under military orders and was assigned to the USAF 379th Expeditionary Communications Squadron at Al Udeid Air Base in the country of Qatar. He served in this capacity for 3 ½ years before returning to the United States. While serving in the Middle East, he was recognized three times as an "Outstanding Civilian of the Month". In addition to U.S. military job functions, he has was the singular contact with many different Qatari civilian companies and also worked with the Qatari Air Force.
After his return to the United States from the Middle East, Marko encountered a plethora of problems with several of the United States government agencies, including the United States Citizen and Immigration Service (USCIS) concerning his overseas adoption of his two nephews – the sons of his wife's deceased brother. USCIS had make mistakes in his sons paperwork and refused to correct them. This precipitated a multi-year battle which went all the way to the U.S. Supreme Court, and will be addressed elsewhere in this website; to read his "Writ of Certiorari" to the court please click here. Marko's case was not accepted, but only 3% of the cases submitted are accepted. It should also be noted that the point of law he was addressing, was his belief of a violation of the U.S. Constitution, Amendment 10. His sons and family are still suffering from the USCIS's actions.
Marko is a strong advocate of the U.S. Constitution and believes that too many Federal government departments and agencies have extended their authority beyond the powers given to them by the Constitution. He has personally experienced this effect and is very troubled by this erosion. The most egregious of the government agencies is the United State Citizen and Immigration Service (USCIS), formerly INS, which Marko has been battling since 2008 in trying to get citizenship for his two adopted sons. In fact, because of their onerous policies and conduct, he considers them to be a "rogue government agency", which routinely ignores the law and the Constitution. Marko has also dealt extensively with the Social Security Administration, the U.S. State Department, and the Veterans Administration. To learn more about "Marko's Battles with the U.S. Government", and the experience he has personally acquired in the process, please click here.
When Marko returned to the United States after the Middle East he started a small business, initially as a Value Added Reseller (VAR) of specialized communications equipment. After the "dot-com" bubble burst, his client-base disappeared and he redirected his efforts to the development of an information acquisition, processing, and distribution system whose primary objective was to support law enforcement efforts, at all levels of the government, both civilian and government. The system is called the "High value information Alert and Reporting System", or HARS. The main goal was to find and apprehend the "bad guys", from local thugs to international terrorists. More information on this may be found at the website VitaStarSolutions.com. As a side note, Marko encountered an international terrorist about five months prior to the horrific event of 9-11. To learn more about his encounter, please click here.
Marko is currently working on his small business, trying to promote his patented system to help Get the Bad Guys. He is also actively battling the various government agencies he has encountered that seem to be functioning without consideration of the precepts and guiding values of the U.S. Constitution and ignoring, at will, rulings of the U.S. Supreme Court. He has encountered bad attitudes, indifference, disrespect for the law, and plain incompetence. Occasionally he encountered a thankful ray of hope when he found himself talking to a caring, professional person – thank goodness.
In any field, whether in corporate or worker America, the military, or in politics, a person's character is important. When a person has the ability to think independently, take responsibility, and take action on their own when needed, this nature can be translated into success and mission accomplishment. Marko was exposed to this nature that was conveyed in a story he read while attending a military school -- "Take a Message to Garcia". Subsequently, because he was so impressed, he wrote a forward to this story. To read his Forward and to know the story is an insight to Marko's nature, please click here.
Because of his present, on-going experiences, his strong belief in "We the People" and the U.S. Constitution, his love of country and deep concern about the many negative forces eroding the long-held values of our country, he has decided to take the battle to Washington, as a person, a "Citizen Warrior", and NOT as a politician. Thus, he has started the quest for the votes of the common, everyday people who are unhappy with the political labels and in-fighting and who are deeply concerned about the future of our country.